Miami Maid Service and Housekeeping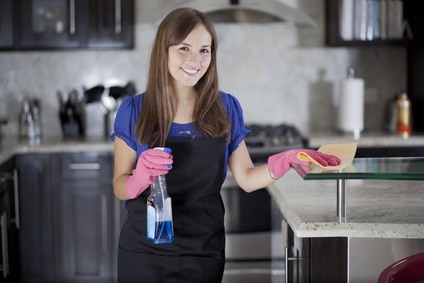 At Spotless Cleaning Services, we provide professional housekeeping services to keep our clients' homes neat and organized. There are a variety of reasons why you might consider hiring a professional maid service to clean your home regularly.
If you and your family are very busy, you can quickly reduce your stress by hiring a Miami maid service to handle basic cleaning around your home. Our cleaning specialists provide weekly or monthly house cleaning, as well as deep-cleaning services for when your home really needs the extra attention. We'll clean all areas of your home, including kitchens and bathrooms, carpet, tile, and hardwood floor cleaning, baseboards and walls, and more.
Regular maid service is also beneficial if you have a larger home, or if you've got a hard time maintaining your home due to mobility issues. Let Spotless Cleaning Services keep your Miami Home looking beautiful! We can customize our house cleaning service to specifically meet the needs of your home and family.
Our Miami Maid Service Includes:
Weekly Maid Service
Monthly Maid Service
Apartment and Condo Cleaning
Pre or Post Party/Event Cleaning
Single Room or Whole House Cleaning
Whole House, Deep Cleaning
Latest Posts About Miami Maid Services
Tips for Miami House Cleaning

Unfortunately, it isn't always possible to have a full time cleaning person on hand to keep your home clean. In between your professional Miami house cleaning services, you have to maintain the look of your home by yourself. This can be difficult when you are a busy person, who is trying to balance a hectic...

Read More
Maintaining Your Miami Home When Mobility Is An Issue

Keeping your home clean can be tough when you're busy with work or family commitments, and it can be hard to even find the time to think about cleaning your Miami home. When you have mobility issues, keeping your house clean can feel like an impossible task. You may have once enjoyed the therapeutic aspects...

Read More
If you're looking for maid services in Miami, please call us at 786-547-2958, or complete our service request form.