Miami Residential Maid Service and Commercial Cleaning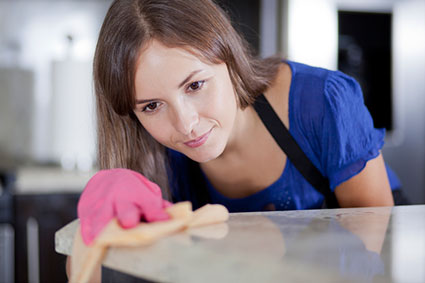 Spotless Cleaning Services is a comprehensive professional Miami cleaning company with services to fit the needs of nearly anyone. Our services are entirely customizable, so we're able to get exactly what you need done—no more or no less. Whether you're looking for an intensive, one-time cleaning, or lighter but recurring maid services for your home, we're ready to take the task head-on. We handle all types of properties, from residences to large office buildings, and we'll clean them based on your specifications.
As a Miami cleaning company, we make sure all of our cleaning products conform to local health regulations and are safe and Eco-friendly. We also offer additional products and techniques to any clients who may greater concern for family safety based on allergies, immune system sensitivities, or other special considerations. Let us know, and we can offer additional services or modify the ones you receive. Call us at 768-547-2958 and schedule your appointment based exactly what services you need!
Miami Maid and Housekeeping Services
If you're busy and stressed, have too large of a home, or perhaps have mobility issues, Spotless Cleaning is the Miami cleaning service of choice. Always professional and highly experienced, we also base your cleaning on your needs. For residences, we're able to perform weekly or monthly services, or one-time deep cleanings to get you back on track. We'll handle every detail, down to carpets, hard-wood floors, baseboards, and walls. We can also steam clean any drapery, which frequently cannot be machine-washed and often irritate allergies or cause breathing problems. So for the most professional and comprehensive Miami cleaning service, give us a call and set up an appointment today.
Miami Rental Property Cleaning Services
Spotless Cleaning Service can also offer a variety of services to renters & landlords to help you save money and get the most out of your property. Renters can often suffer hefty fees from their landlords upon moving out of their properties, and likewise, landlords can have a harder time finding renters of properties that aren't in their best condition. We can help you revitalize property to sell, maintain it between tenants, or give you a deep cleaning so you can avoid those fees.
Our Miami cleaning services also include vacation rental upkeep. We'll help you minimize cleaning time between renters so that you can maximize your rental time. We'll keep the place looking beautiful so that you can get the most out of it.
Miami Commercial Cleaning Services
Keeping a commercial space clean on your own can be a difficult task. With several employees, break rooms, multiple surfaces and carpets, it can all get to be too much to manage. Hiring a Miami cleaning company on a monthly or weekly basis takes some of the load off of your employees and off of your mind. With industrial strength products and techniques, our Miami commercial cleaning services are the best available.
Recent Articles
Residential Holiday Season Cleaning Tips

One of the ways you can reduce your stress this holiday season is by ensuring your home is clean and ready to receive guests. There's nothing like the embarrassment you can feel when it's time to receive family in for the holidays, only to realize your home is in less that welcoming condition. But will...

Read More
Tips for Miami House Cleaning

Unfortunately, it isn't always possible to have a full time cleaning person on hand to keep your home clean. In between your professional Miami house cleaning services, you have to maintain the look of your home by yourself. This can be difficult when you are a busy person, who is trying to balance a hectic...

Read More
What Our Miami Customers Are Saying About Us
Spotless Cleaning Services is Rated: 5 / 5
based on these 1 happy customer reviews.
---
"Great, fast, reliable service with a smile. They come once a week to clean my condo, and let me tell you, it's a pleasure to come to a wonderfully smelling, spick and span home. I advise you to try Spotless Cleaning Services and see for yourself! Thank you!"
---
Looking for professional maid services in the Miami, FL area? We've got you covered! Call Spotless Cleaning Services today at 786-547-2958, or complete our online request form.