The Value of Boat Cleaning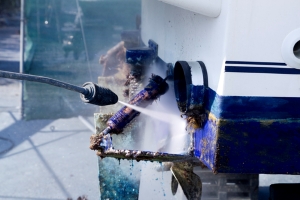 Keeping your boat clean and well-maintained is essential not only for its appearance but also for its longevity and performance on the water. Regular boat cleaning goes beyond just aesthetics; it plays a crucial role in preserving the value and ensuring the overall enjoyment of your investment. Let's explore the importance and benefits of professional boat cleaning.
1. Protects the Exterior Surfaces
Exposure to the elements, such as sun, saltwater, and pollutants, can take a toll on your boat's
exterior surfaces. Professional boat cleaning helps protect these surfaces from damage caused by
oxidation, fading, and corrosion. By removing dirt, grime, and salt residue, the cleaning process
preserves the shine and finish of your boat, extending its lifespan and maintaining its resale value.
2. Prevents Mildew and Mold Growth
Boats are prone to damp and humid conditions, which create the perfect environment for mildew and mold growth. These microorganisms not only compromise the appearance of your boat but also pose health risks to you and your passengers. Professional boat cleaning includes thorough cleaning of all interior surfaces, including upholstery, carpets, and storage compartments, preventing the growth of mildew and mold and ensuring a clean and healthy boating experience.
3. Maintains Proper Functionality
Regular boat cleaning is essential for maintaining the proper functionality of various systems and
components. Cleaning and inspecting areas such as the bilge, engine compartments, and electrical
systems help identify potential issues early on, preventing costly repairs and ensuring that your boat operates smoothly and efficiently. Additionally, keeping the hull free from marine growth and debris improves fuel efficiency and enhances overall performance on the water.
4. Preserves the Value and Resale Potential
A clean and well-maintained boat holds its value better and has a higher resale potential. When it
comes time to sell or upgrade your vessel, prospective buyers will be more attracted to a boat that has been properly cared for. Regular boat cleaning, both inside and out, creates a positive impression and demonstrates that the boat has been well-cared for, increasing its market appeal and maximizing its resale value.
5. Saves Time and Effort
Boat cleaning is a time-consuming task that requires specialized knowledge and equipment. By
hiring a professional cleaning company, you can save valuable time and effort. Professional cleaners have the expertise and experience to efficiently and effectively clean all areas of your boat, ensuring a thorough and meticulous job. This allows you to focus on enjoying your time on the water rather that spending hours scrubbing and cleaning.
6. Provides Peace of Mind
Knowing that your boat is clean, well-maintained, and in optimal condition provides peace of mind
during your boating adventures. Professional boat cleaning ensures that your vessel is ready for use at any time, without worrying about the accumulation of dirt, grime, or potential issues that may arise from neglect. It allows you to embark on your boating experiences with confidence, knowing that your boat is in the best possible condition.
Investing in professional boat cleaning services offers numerous benefits, from protecting the exterior surfaces to preserving the value and ensuring the overall performance of your vessel. With the expertise and specialized knowledge of a professional cleaning company, you can enjoy a clean, well-maintained, and beautiful boat for years to come. Call Spotless Cleaning Services for boat cleaning and more in Miami.
If you're looking for a professional, Miami area cleaning company, call 786-547-2958 or fill out our online request form.