Miami Beach Residential Maid Service and Commercial Cleaning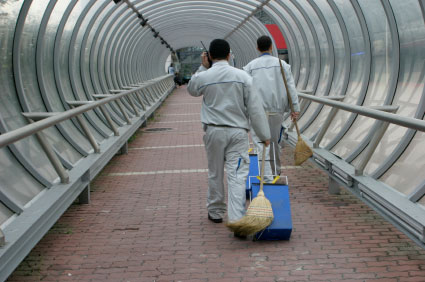 At Spotless Cleaning Services in Miami Beach, Fl, we offer a full-range of cleaning services to meet the needs of any individual or business. With completely personalized services, we'll get exactly what you need done, whether it's weekly or monthly services, or a one-time intensive clean. You create the job, we perform it. We can also work with any kind of property, so whether the job is big or small, we're ready to take it on.
Your home is a part of Miami Beach, and so is our Miami Beach cleaning company. That's why we always use safe, eco-friendly cleaning products and procedures. We'll always meet local health regulations and make sure your family is safe. We can also offer additional products and techniques in case any of your household experiences problems with allergies, immune system sensitivities, or any other complications. Let us know exactly what you need, and we'll modify your services or perform additional services.
Call us to set up an appointment, and tell us what you need!
Miami Beach Maid and Housekeeping Services
Our Miami Beach cleaning services cover a wide range, and even our residential services could be used by nearly anyone. Whether you're busy, stressed, have mobility complications, or maybe you've just gotten behind on your cleaning, our goal is to take home cleaning away from your list of problems. We can clean your home weekly or monthly—or we can do a single intensive cleaning to get you caught up again.
At Spotless Cleaning Services, we love the details. We'll cover everything, all the way down to carpets and hardwood floors, baseboards, and walls. We can also steam clean your drapes, which go overlooked in lots of homes. Drapes often can't be machine washed and the dust they gather can cause breathing complications, especially if anyone in your home has allergies or asthma. Call us for the services that suit you and see what a difference a truly clean home can make.
Miami Beach Rental Property Cleaning Services
Spotless Cleaning Services can help renters and landlords alike save money and get the most out of their property. With move-in/move-out ready cleanings, we can help you get a fresh start, revitalize a property for sale/rent, or avoid the sometimes hefty fees renters can suffer by leaving property unclean.
We can also clean vacation rental properties between renters during the busier summer months. This way you can spend less time getting ready for new renters, and more time renting the property. We also offer discounts to owners with multiple properties. Let us make sure your property is pristine by calling for an appointment today.
Miami Beach Commercial Cleaning Services
Maintaining a clean commercial can be especially difficult. Several people occupying one space, carpeting, multiple work-spaces and break rooms, can all make cleaning difficult to keep up with. Our Miami Beach cleaning services can take this off your—and your employees'—hands. We can clean any commercial space and have the industrial strength products and techniques to do so professionally and safely.
Recent Articles
Miami Boat Cleaning - Squids and Swabs or Tar and Jack Tar?

Every good ship or boat has a Captain, but what about the rest of the crew? For fun, we thought it'd be interesting to jot down some nautical terms for crew mates that have been used throughout time. While the term Captain carries obvious meaning, the rest of the members of a crew have adopted...

Read More
North Bay Village Residential Cleaning Tips

In between a visit from your professional North Bay Village residential cleaning service, you have to maintain the look of your home yourself. This can be difficult when you are a busy person with a hectic work schedule and an active social calendar. Unfortunately, there isn't always time to clean your home the way it...

Read More
What Our Miami Beach Customers Are Saying About Us
Spotless Cleaning Services is Rated: 5 / 5
based on these 4 happy customer reviews.
---
"I used Spotless services today for the first time today, and I couldn't be more impressed. Not only they did everything I asked for fast and very thorough, but once they left I found all the extra little things they did, including my messy balcony was organized and mopped! Thank You Spotless for a great service!"
---
"Daiva and Spotless Cleaning are awesome! We do not live in Miami full time and so it's very important to us to have someone reliable and trustworthy–not only to take care of the cleaning — but to know we can call on for any unforeseen problems that arise. Daiva is responsive and helpful–from meeting contractors for us and supervising installations, to accepting deliveries for us and even starting the car periodically so the battery doesn't die–we trust Daiva and her company to look after our place like her own and we have not been disappointed!"
---
"Your team of specialists will always be my choice for cleaning my home. Boy, does my family and I breathe so much better!"
---
"How I love coming to my office even more! Every section feels new again!"
---
Looking for professional maid services in the Miami Beach, FL area? We've got you covered! Call Spotless Cleaning Services today at 786-547-2958, or complete our 
online request form
.